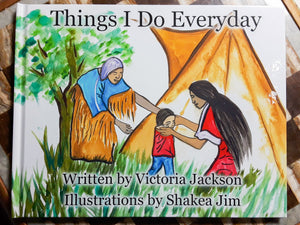 "Things I Do Everyday" is an 11x8.5" 26-page hardcover children's book written by Paiute-Shoshone author Victoria Jackson and illustrated by Western Shoshone artist Shakea Jim.
This book was developed to help children form a daily routine by using short phrases and basic wording.  "Things I Do Everyday" can also help children learn to read.
With vibrant photos and small words, this book can keep the attention spans of any aged child.
Book only is $22.00 plus shipping.
Book with add-ons, include:  Digital Download in Shoshone, Paiute or English, as the video shows is $27.00 plus shipping.