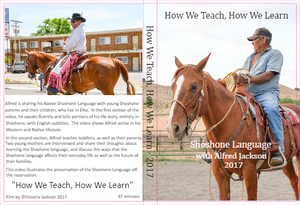 **Generally acceptable for Android or Windows operating systems
Alfred Jackson shares his Native Shoshone Language with young Shoshone parents and their children, who live in Elko.  In the first section of the video, he speaks fluently, and tells portions of his life story, entirely in Shoshone, with English subtitles.  The video shows Alfred active in his Western and Native lifestyle.
In the second section, Alfred teaches toddlers, as well as their parents.  Two young mothers are interviewed, and share their thoughts about learning the Shoshone language, and discuss the ways that the Shoshone language affects their every day life, and the future of their families.
This video illustrates the preservation of the Shoshone language, off of the reservation.
47 min 28 sec