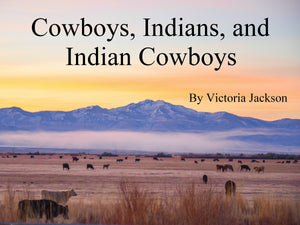 Cowboys, Indians and Indian Cowboys by Victoria Jackson. 60 pages. Soft cover coffee table book.
This book features photos from the authentic western lifestyles of cowboys from Nevada, Oregon, Idaho, Wyoming and Colorado, including behind the chutes photos of ranch bronc riders.
The culture of Native Americans are displayed in all their brilliant colors.  Portraits of individuals in their pow-wow regalia, along with traditional public events are also featured.
Indian cowboys are also portrayed in their natural environment, on the ranch, at the rodeos and with their horses.